TAKE $35 OFF YOUR FIRST ORDER OF $100+ USING CODE FARE_WELL AT CHECKOUT
Posted by Benjamin Harrison
20th September 2020
The most important thing about local meat? It's local.
Travis Short of Farm Girl Meats raises, arguably, the best meats in Central Arkansas and two daughters. He grew up tending livestock in Ohio and first ventured to Arkansas in 1995 to volunteer at Heifer Ranch, where he remained for nearly four years.

After Heifer, Farm Girl Meats began as a group project between Travis, his former wife, Katie, and some of their friends. "They were doing some vegetables," he said, "and I think we had a few pigs to start off with."

The number of friends working on the farm dwindled, and Travis and Katie, who had dated throughout the startup phase, got married in the early 2000s.

A little over two years ago, they divorced, and Travis had to decide between working in construction or continuing to farm. In the end, the pastoral life won out, and he stayed on the farm with his daughters, a decision he's never regretted.

"It's been a big plus to be able to be on the farm," he said. "Especially with COVID." The pandemic has impacted Farm Girl in various ways. "The markets have all changed," he explained. "Sales are a little better. But I've got two different butchers now because my guy that did all my butchering was so busy with everything else he quit doing chicken."
That resulted in a rush, like many Arkansas ranchers adjusting to COVID, to find a new chicken butcher and schedule all of his appointments for processing right away. "I had to schedule everything for the next year because it was filling up so fast." For Travis, that means more driving and trips that are more difficult to coordinate.

On top of that, "markets are kind of messed up," he said. "We haven't done meat shares because we weren't sure about delivering that kind of thing. But I think it's relatively steady now, and we'll start in a couple of weeks."
Local food supports local families.

Pssst. FareMarket delivers.
Most everything else has stayed the same, though. He wakes up early, does chores, makes the rounds, then heads back to the house to prepare breakfast for his girls. Then he's in and out for the rest of the day, moving cows, pigs, birds, mending fences, you know, farm stuff.

During the divorce, Farm Girl's Animal Welfare Approved certification lapsed. "I want to get back to certified again," said Travis. "We still follow the standards. It was the record keeping we failed at."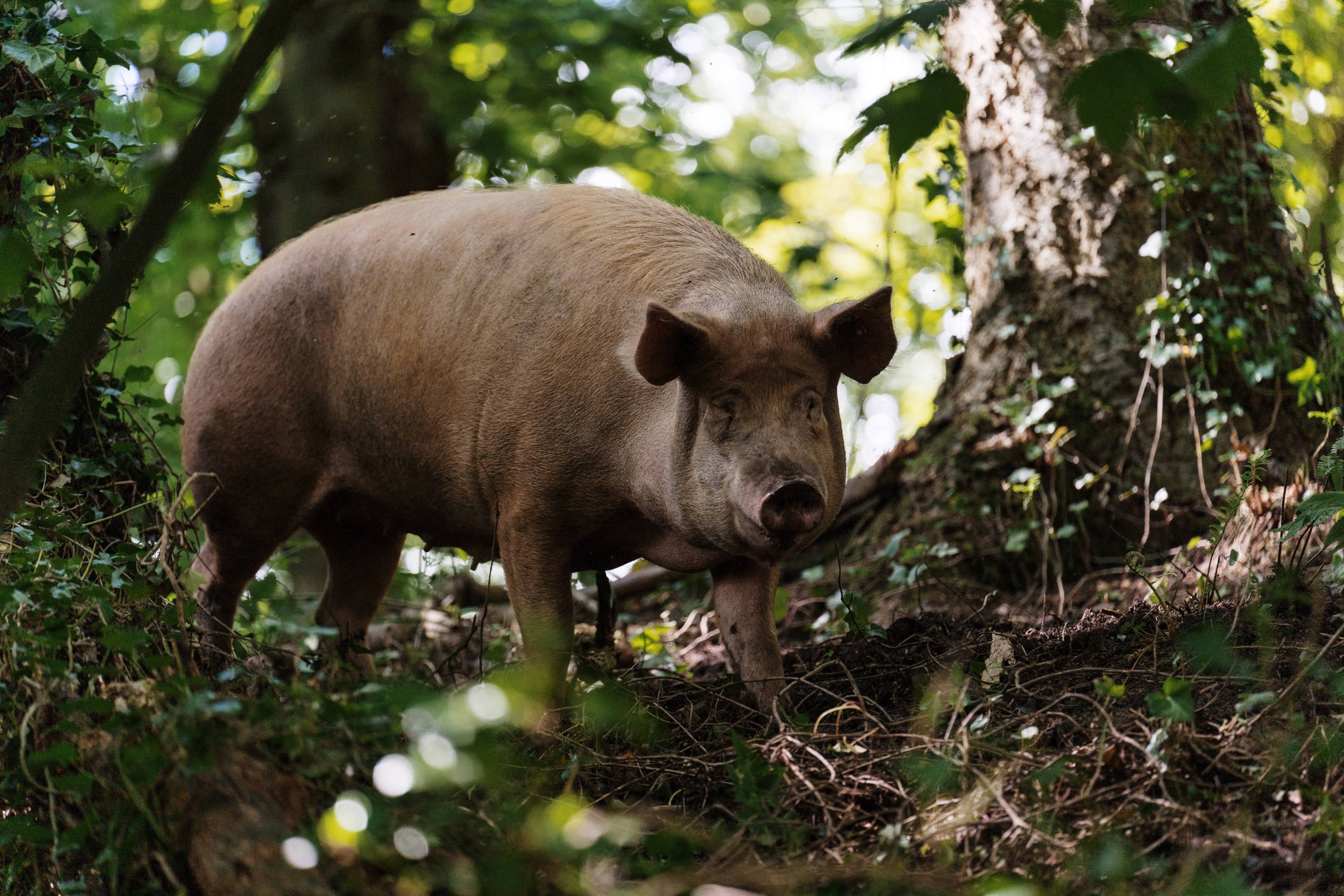 Animal welfare is still at the heart of Farm Girl Meats. His second consideration is how the farm impacts the environment. "That's kind of where we're headed," he said, "improving the land. We planted a bunch of trees. We're doing it all on a permaculture design. Everything's on the contour, we've got trees and brush areas to help catch runoff coming down."

He described all of the new trees on the farm as a sort of tempo line stretching the property. "It's kind of abused. We trim trees where they're too thick and plant trees where we don't have them. A Savanna-look is what we're going for with orange trees all over."

One significant result to all of his efforts: carbon sequestration. Farm Girl Meats doesn't use chemical fertilizers or pesticides. Instead, the goal is to add as many trees and as much organic matter as possible.



The farm is 18 miles west of Perryville, just down the road from Lake Nimrod. You can catch Travis at White Water Tavern on Saturday mornings from 10am-1pm, or you can grab some of his amazing meats from FareMarket for delivery.

If you need advice on the best cuts, Travis suggests, "that's going to be pork chops, but I like the hairline breasts like a lot of people. Our chickens are a thirteen-week bird, as opposed to the usual six- or seven-week bird, and they're free-range as opposed to confined to pasture."

That extra six or seven weeks adds a lot of chicken flavor. "A little more leg and a little less breast," he explained, "but they get a lot of grass, a lot of bugs. They have access to fields the size of parking lots."

Chicken raised in open pasture tends to have higher levels of iron and Omega-3 fatty acids, as well as higher antioxidant contents (like Vitamin E). "They're as free range as anything you're ever gonna get," he said proudly. "I don't know anybody else who's doing it that way."

If you like the idea of local, environmentally friendly meats delivered right to your door, check out our collection of cuts from Farm Girl Meats, Bradford Valley Farms, Ratchford Farms, and a few specialty items from Lovera's Market.

Locally-sourced cuts are clearly labeled for your convenience.
SUBSCRIBE TO OUR NEWSLETTER
Recieve our latest weekly releases, offers, guides, and more.