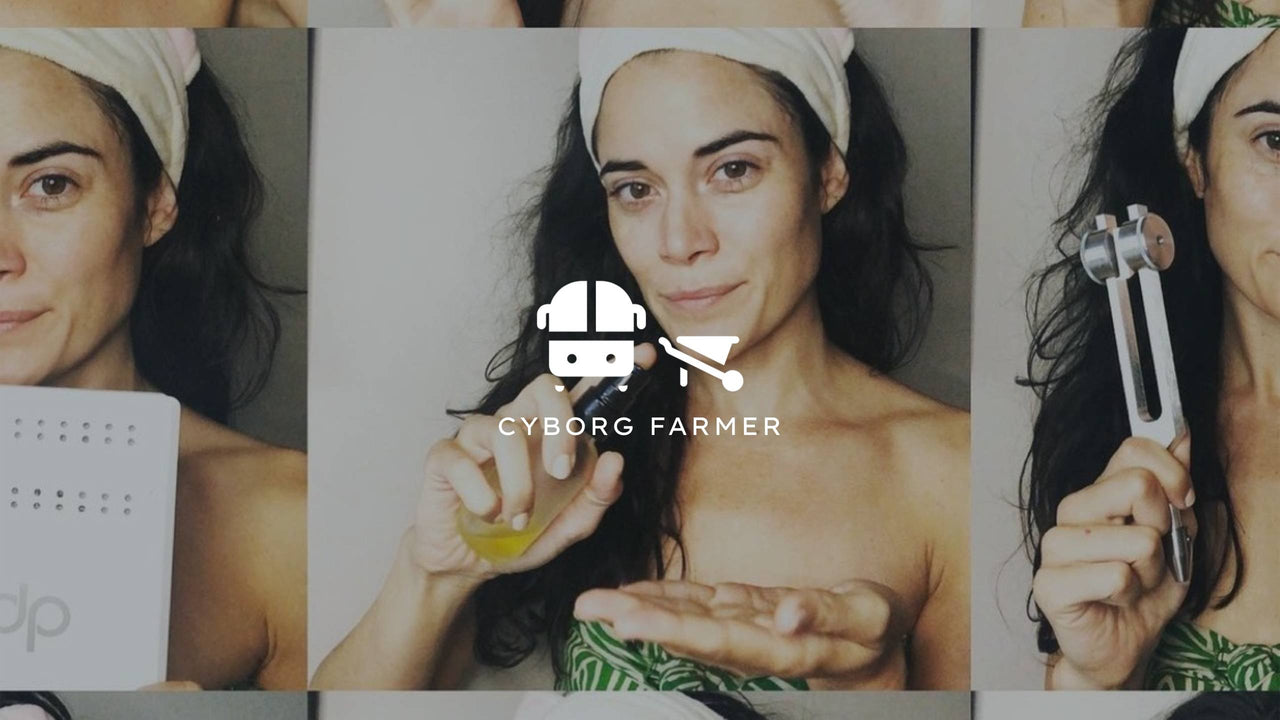 The Witch of West Little Rock
Benjamin Harrison
TAKE $15 OFF YOUR FIRST ORDER OF $50+
The Witch
of West
Little Rock
Mindful, Local, All-Natural Skincare
Benjamin Harrison | October 20, 2020
Kayce Johnson began crafting her own skin care products at the age of fifteen. She has rather sensitive skin and, like many teenagers, it was freaking out. "My mother was a very good mother and did what everyone did, which was put their child on Proactive and try all of these harsh chemicals."

With a laundry list of chemicals soaking into her pores, Kayce opted for simpler, more natural remedies, like Burt's Bees. And the condition of her skin improved, prompting her curiosity and further study. "I realized I can make it myself," she says. "So I started customizing my own products."

It didn't take long for friends to start making requests, then gifts for the family, and finally it grew into an official small business with a variety of its own skincare products. It didn't happen overnight, though. "I was a mental health therapist," she says. "So it was something I did on the side. I started using Etsy, but it was really slow."
For eight years, Kayce worked in the mental health field, making use of both art therapy and yoga as forms of recovery. Then, six years ago, Kayce launched Arkansas Yoga Collective with a partner, which offers Kind Folke's skincare products through their gift shop.

With this new platform for her products, word began to spread. "I don't want to get too big," she says, "because I really enjoy making the products. It is getting a little overwhelming doing all of it, you know, designing the labels, bottling, making them, but I love it."

"I have been using the body butter for 3 years now, I never use anything else! No dry skin ever, amazing! Also I have been using the face cream for about 3 weeks now and have seen great improvements in my skin! All this and all of the products smell fantastic!"

Now that she has the process down, Kayce really zeroes in on the essential oils and herbs that give Kind Folke's signature products their charming variety of fragrances. Each recipe is crafted in her own kitchen or, occasionally, the kitchen at the yoga studio, but they're always made in small batches.
"I look for as high quality ingredients as I can," she says. "If an ingredient is available organic, I always get organic." She's exceedingly cautious in choosing essential oils. "I really love Floracopeia because the founder is an herbalist, and he has a real respect for herbs and where they're from and how the oils are extracted. That's really important."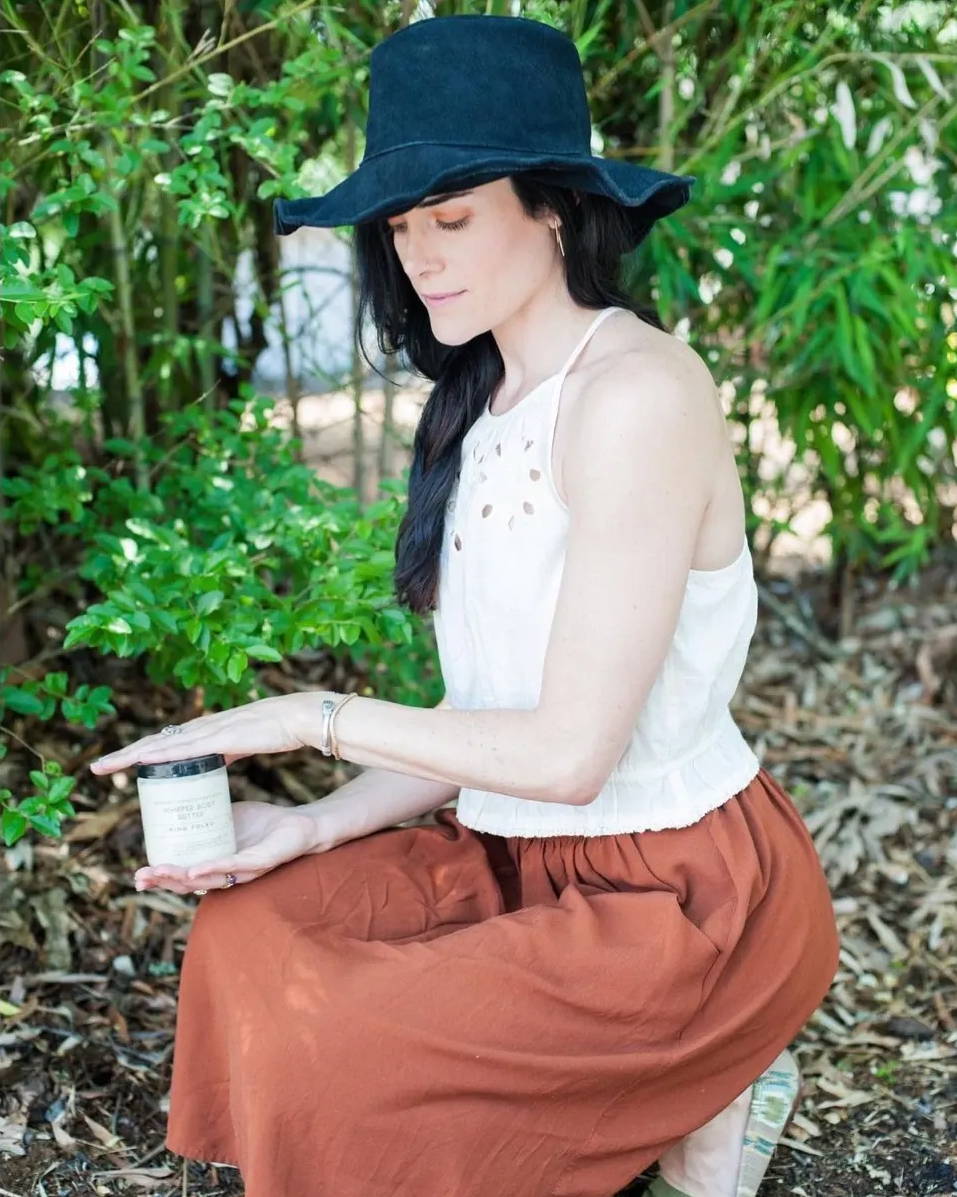 I went from using department name brand skin care products that I have been using for years to Kind Folke. My skin has never been this well balanced. I can't say enough about this entire line of product! Pure product with honest prices, I absolutely endorse Kind Folke!

Kayce's personal favorite from Kind Folke is the Glow of the Sun Face Oil. Another favorite, both of hers and her customers, is the Fire Pool of the Stars Muscle Rub.

"It's an organic muscle rub. Some people even tell me they put it on bug bites because it stops the itch. I definitely use that one a lot because I'm really active." The rub features menthol crystals and a variety of essential oils that increase circulation in sore or injured muscles.

Kayce says there's a misconception about face oils. "People who have oily skin often think the shouldn't use oil, but actually that's the best thing they could use. Oil basically takes what it needs from skin, but it won't create a barrier that traps oil against the skin."

Often, she says, people with oily skin strip away their natural oils, disrupting pH levels and causing an increase in the skin's production of oil. "Moisturizing with the face oil is actually better."

The Whipped Body Butter, with its aromas of lavender and lemongrass, is rich and moisturizing. With cooler winds and chapped skin approaching, "it'll definitely make the skin super soft," says Kayce. "And also for your whole body, even for your face, if you don't have oily skin."

I use Kind Folke whipped body butter instead of store bought lotion to keep my skin from being dry specially during cold weather. It has helped keep my eczema at bay....the muscle rub is an all time favorite for muscle aches and pain, AND decreases itching and inflammation from little insect bites such as mosquitoes in the summer. I have gien it as gifts and many converts want more....thanks Kayce for wonderful products that are natural and reasonably priced for all to enjoy.

It was important for Kayce to create more than just superficial products with alluring fragrances. She wanted them to benefit the body. "I like multitasking, so with the body butter, it has lavender that's calming and lemongrass that's uplifting. You're getting the aromatherapy, but also bugs don't like those as much. There's a not-so-glamorous side to it, but it also smells good."

Similarly, the Seven Seas Sugar Scrub has an eye-catching blue-green timbre to it, compliments of sea algae. "Your skin absorbs a lot of what you put on it, so that really feeds your skin."


All of Kind Folke's products possess a kind of duality, with an emphasis on both aesthetics and practicality. The Glow of the Sun Body Scrub includes grapefruit and ginger, which stimulate the circulatory system.

"A lot of what the body scrub is gonna be for is your legs and thighs. That's great for the cellulite—it's massaging the lymphatic system—and the geranium is super healing for skin."

If you're trying to clean up your skincare routine, Kayce recommends starting in the shower where the hot water can open your pores and allow your skin to absorb more of the product.

"It's important that what you're using [in the shower] is clean. And then if you can add some beneficial ingredients, you're just amping that up, which is nice."
Arkansas Yoga Collective is the place to learn the art and science of yoga. With up to 8 group classes a day ranging from beginner to all-levels, private yoga coaching and weekend workshops, you can create a yoga schedule that works for you. Pair your yoga class with a luxurious massage from Restoration Therapeutics. Enjoy local coffee, Ayurvedic tea, house-made products from KIND FOLKE apothecary, Fair Trade gifts, and more.
The art + science of yoga.
Before the pandemic, Kind Folke's muscle rub was a popular post-yoga workout treat at Arkansas Yoga Collective. The studio briefly closed due to the pandemic but has since reopened with limited class sizes. "We can fit about eight people in a class," says Kayce, "but we're doing it on Zoom as well, so our whole schedule you can do either at the studio or online."

Check out their online schedule, and join a session!
---
Schedule your herbal consultation with Kind Folke today!


Herbal Consultations are intended to help you understand specific concerns in your body (these could be outward physical symptoms such as skin concerns, scars, discoloration, etc.; internal symptoms dealing with organs, digestion, or pain; or mental symptoms such as lethargy, stress, depression, anxiety, etc.).

Once you know more about the source of what is causing you discomfort, you can then begin to make decisions towards how to approach your healing process. These Herbal Consultations are not intended to diagnose or treat an illness, rather to provide a guideline to help you regain health and overcome or cope with symptoms.

The recommendations made might include herbal tonics, diet suggestions, healthy activities to include in your daily routine, all natural body care products, and more. The suggestions will be fully individualized to meet your unique case.
SUBSCRIBE TO OUR NEWSLETTER
Receive our latest weekly releases, offers, guides, and more.
SUBSCRIBE TO OUR NEWSLETTER
Receive our latest weekly releases, offers, guides, and more.